Shooting a short film in 7 days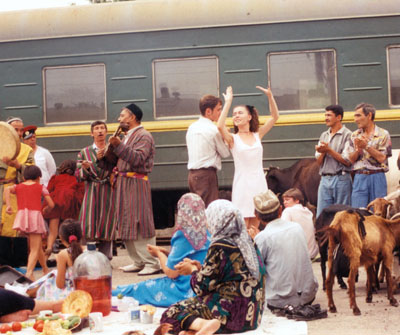 The workshop is aimed at film students and young filmmakers just starting out. The aim of the workshops is the production of a 35mm short film (5-7 minutes) without dialogue. The workshop will run along the lines of the principle of "learning by doing". 16-18 people may take part in a workshop.
The workshop is divided into seven phases:
1. Gathering ideas (3 months before shooting):
Each participant will develop an idea for a film (one page) on a subject provided by Veit Helmer via internet.

2. Writing a screenplay (2 months before shooting):
Each participant will write a screenplay on the theme chosen by Veit Helmer

3. Looking for a location and casting (1 month before shooting):
The participant will screen test actors and photograph possible locations

4. Preparation:
Veit Helmer will arrive three days before shooting begins. Storyboards will be drawn up, actors rehearsed and tasks distributed.

5. Shooting:
3 days shooting on location. The participants will take turns at directing. Veit Helmer will advise and supervise.

6. Editing (1 month after shooting)
Each participant will work at editing his own version. Veit Helmer will assemble the best ideas and complete a final version.

7. Premiere and festival presentation (4 months after shooting):
The film will be premiered in a cinema. Following this the participants will travel to festivals to present the film.
The cost of a workshop is between 3000-6000 euros, depending on the country.
Initiators and partners are (among others) film schools, the Goethe Institut, the Soros Foundation, the Foreign Ministry, film festivals. The following short films made in previous workshops have been bought by TV stations and have won numerous prizes:
1999 "Hati-Hati, Malam-Malam!" (Jakarta)
2000 "Uzbek Express!" (Tashkent)
2001 "Freudenhaus" (Frankfurt)
2004 "A Dog's Life" (Almaty)
2004 "Georgian Summer" (Tbilisi)
2005 "Caspian Bride" (Baku)
2005 "Boom" (Avanca)